SPECIAL 16 TUBE "AS ADVERTISED" CONSOLE
ONLY $39.95 COMPLETE WITH TUBES & READY TO PLAY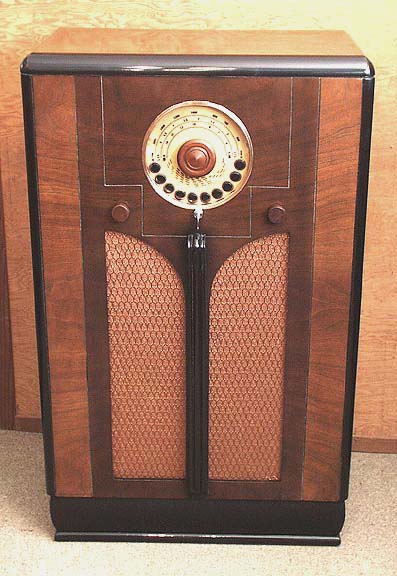 This radio was promoted as a special sale offering
and may have been produced to help quell charges of false advertising.
To offer a 16 tube console at such a low price Midwest obviously had to cut production costs.
To start, the chassis was built on the same platform as the 16, 18 and, 20 tube motorized tuning sets
but the tube line up was changed somewhat. It has 3 bands rather than 6 and uses a small 8 inch speaker.
The set does feature 'Dial-A-Matic' tuning with Automatic Frequency Control and 'Tune-A-Lite'.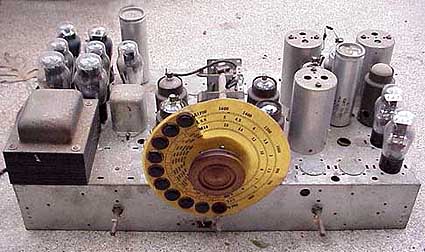 Notice the hole plugs
The cabinet is simple in both construction and design. There is no veneer on the sides, just toned hard wood.
TAKE A LOOK AT THIS AD
Notice the pretty lady standing next to the radio which is apparently an artist rendering.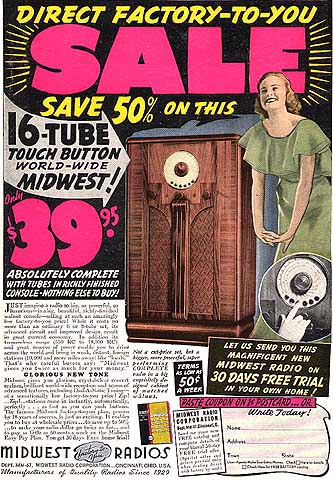 Either the lady was very short or, more likely, some cut and paste techniques were used to create the ad
because the radio is only 3 foot high, 22" wide and 13" deep!
I doubt that many of these sets exist today.